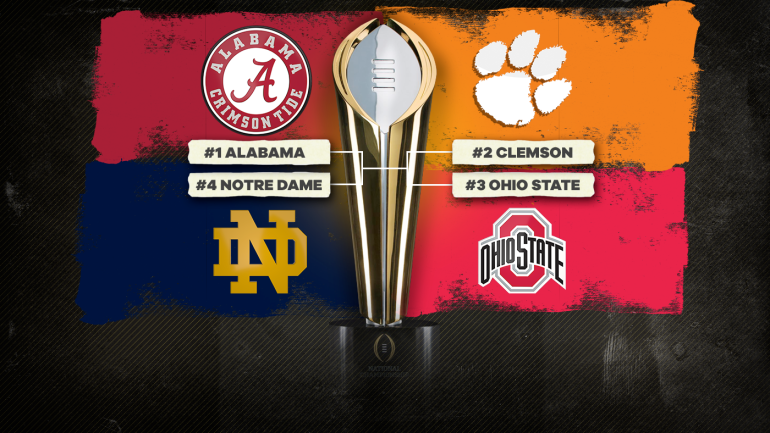 PS 2020 Here We Go!
Last year it was PS Pro. This year it is PS 2020 as we move into an era of Full PS. Of the 4 playoff Offenses, 3 are of the PS Pro variety. The only one that is a truly cutting edge PS 2020 is Clemson's led by OC Tony Elliot.
In my preview last year I underrated the innovation on Offense by Clemson. This started way back when Tommy Bowden hired a new OC in Rich Rodriguez and continued early last decade when Dabo Swinney hired Chad Morris. Tony Elliot and his long time OC partner in crime, Jeff Scott learned from both of these innovative offensive minds. Jeff Scott got a new head coaching job, leaving Elliot on his own this year.
Though I underrated Elliot heading into last year's Playoffs, I was noticing some of the innovation happening on Clemson's Offense. I studied his background as well as Jeff Scott's. I picked up on Elliot's more "power" oriented background compared to Scott's passing spread background. Scott's Dad, Brad, had close ties with the Bowden family, hearkening back to the great pass game innovations of Sid Gillman.

Elliot had Power Option and Heavy Run concepts in his background. Together with the genius of both RichRod and Chad Morris, along with the Bowden/Scott influence, Elliot has really come into his own as an innovator and coordinator. Ironically he is the major Covid Issue this week as he will not be on the sideline for this game. What effect this may or may not have on the game remains to be seen.
Covid Disruptions?
2020 has been quite a year as we all know. Covid Disruptions have dominated the College Football Landscape this year. Besides the situation with Elliot – as of Gameday Morning – I don't know of any other major issues heading into the Ohio State / Clemson game.
Both Clemson and Ohio State have had their issues this year with Covid + Injuries. Clemson was missing a lot of top players during their only loss of the season at the hands of Notre Dame in double overtime. OSU was not the same Team in their B10 Championship game due to so many of their own issues throughout the year. QB Justin Fields was nursing a thumb injury on his throwing hand in that game. Clemson's own QB missed time – including the 1st ND game – due to a positive Covid test. As of this writing both Teams seem to be in their best shape all year, not including the absence of Clemson's OC Elliot.
Alabama has had some major injuries this year and for this game are missing a top WR, OL and DE. Notre Dame actually had a rash of injuries near the end of the year that certainly contributed to their big loss in the ACC Championship Game in their second meeting with Clemson. As of this writing both Teams seem to be Covid free and Notre Dame appears in better health than their last game.
Blowouts or Tossups?
Most are expecting an Alabama blowout of Notre Dame and an incredible game between OSU and Clemson. This is based on recent history. In 2018 I proclaimed that OSU belonged in the playoffs and that Notre Dame had no chance of winning. Notre Dame's blowout loss that year still linger's in a lot of people's minds.
While an Alabama blowout and another incredible game between Clemson/OSU is certainly possible, I do wonder if we will shockingly get the opposite this year. Fitting for the unpredictable year we just left.
This is another great Alabama team, but not unbeatable. In fact, I feel that there were past Bama teams under Nick Saban that had more talent and were simply better. Even on Offense. Though QB Mac Jones and WR Devonte Smith have lit it up this year, I've seen better balance in the last 2 years. Notre Dame's talent is still lacking when compared to the other 3 teams, but they have their best OLine in years and QB Ian Book is a true gamer – Doug Flutie style. Their Defense is underrated as is their Defensive Coordinator Clark Lea. This may be the year Notre Dame actually shocks the world.
As for the other game – the one everyone is waiting for – will it live up to the hype? Clemson is at full strength again and playing their best, but we haven't even seen Ohio State's best all year – except possibly early on in their first two games. Ohio State's been through more than any of the other 3 teams and this could give them that "magic" edge that helped Clemson win last year. Clemson's big win versus Notre Dame could also have been somewhat of a mirage.
Notre Dame vs Alabama
So maybe I will feel foolish after the game, but I really feel ND has a shot even though there's no doubt the better team 9 out of 10 times is Bama.
Alabama is a true Power Spread Team
To be clear – Alabama is our most recent College Football Dynasty. They have had the most Talent for a Decade. Though recently Urban Meyer and Ryan Day's recruiting at Ohio State has caught up to Bama and Dabo Sweeney's Clemson team isn't far behind. Besides Talent, Nick Saban is noted for teaching Fundamentals and Technique. The Culture was rebuilt by Saban years ago.
The biggest change recently is schematic. Saban reminds me of old ball coach Marv Levy of the Buffalo Bills. Remember him in the late 1980s complaining about Sam Wyche's No-Huddle Offense. Then using that same No-Huddle with Jim Kelly to produce multiple Super Bowl appearances. Nick Saban, after all his complaining of Up-Tempo Offenses has now went the same way.
Alabama isn't the most innovative schematically, but they are now a Up Tempo PS Pro Offense. After years of hiring OCs and Consultants, from Lane Kiffen to Mike Locksley to Steve Sarkisian, Saban finally has a PS Offense that has been effective with ball control Power as well as high tempo Spread.
On Defense, the scheme has suffered some since DC Jeremy Pruitt left. Finding the right balance of aggression and deception vs simplicity and execution has not been easy. Especially since all the Offenses in Football now have a PS Mindset. Also, Alabama has suffered a lot of injuries of late, partly due to recruiting and playing faster, but smaller Defenders. No longer can Bama just line up and simply out execute and out physicalize everyone.
The update in scheme on Offense has certainly made Bama again the annual favorite to win it all.
Does Notre Dame even have a chance?
This Time – I say yes. For multiple reasons.
1st – Ian Book. While not the most talented player on the field, he truly represents the Culture Brian Kelly has built at Notre Dame. He is a fighter who never gives up. He's a better athlete than most realize. He can scramble and make plays. He's experienced and clutch. All of this will serve him well and inspire confidence in the whole Team. Possibly produce a miracle.
2nd – Clark Lea's tricky pressure Defense. Lea has taken the Defense of his protege Mike Elko and combined the deceptive pass coverages with more aggression up front. He mixes more than Elko as well – playing a lot more man coverage than people may realize. This could lead to a lot of Bama mistakes on Offense. Especially in the passing game.
3rd – Timing. We are in some crazy times and Notre Dame has been through it all this decade as far as football is concerned. They have nothing to lose. No one believes in them but their fans and more importantly themselves. This may be the biggest reason of all that I feel they have a shot.
4th – Bama Injuries. They may not have a lot, but I really don't like to see the guys they are missing. Especially WR Waddle. He takes the pressure off the rest of their receivers. They have not faced a Defense this deceptive and QB Jones would really benefit from Waddle's presence.
Prognostication – Notre Dame hits fast and hangs on – or doesn't…
It is hard to go against Bama in this one. The way they have played all year and their talent edge – especially that PS Offense that is so explosive now. But I do have a feeling about the luck of the Irish today.
Before anyone says – Well what about their previous blowout losses in big games – I would caution that this is not the same Team as in those prior games. Even in the Clemson blowout a couple of weeks ago.
Notre Dame was struggling with injuries more than people know. Also, that game was actually close for most of the 1st Half and just got away from ND. More importantly, the great Brent Venables – DC of Clemson – had a 2nd chance to gameplan against Notre Dame's Offense. The first time ND actually burned his defense early on. Brent made adjustments in that 1st game and then made more for the 2nd game. One of the big ones was keeping the mobile Book in the pocket. Forcing him to throw. It's almost impossible to win versus his Defense 2 games in a row.
If Bama was playing the tricky Book and tricky Defense of Notre Dame for a 2nd Time, then I don't think ND could win. But if their new OC – former Irish QB Tommy Rees – breaks tendency with Kelly's new PS Pro Offense then they definitely will put up points. They have a top OLine and TEs. Tricky good WRs. And a good RB. Enough for Book to change his name to Luck!
Ohio State vs Clemson
Could this game actually be the less exciting one? Honestly I can't believe I am saying this, but yes. Both teams have a great Culture and great Coaches and Talent. So what will make the difference?
Clemson Schemes
I have to start with DC Brent Venables. I've talked about him for years. He continues to improve his schemes. Now he's running some sort of 3-3-3 hybrid, while still bring pressure from anywhere and everywhere. Versus Notre Dame he mixed in 3-2-3 and 3-2-4 stuff with all his stunts, zone and man blitzing.
He's a master at Phantom Pressure. Showing blitz looks and dropping into zone. Or pressuring with zone blitzes from another area of the field. CBs / Safties – everyone blitzes.
His Zone Coverages are also tricky. But again, they are just looks. Tricky for the Offense. Not tricky for his players. In fact, during my research, I marvelled at how simple his Zone and Man Covererages really were. A lot of times it's just a simple 12, 21 etc. For example – show a Cover 2 – drop into a Cover 1 pre-snap, then move into Cover 3. Sounds complicated? It is for the opposing team, not his players.
And now with OC Tony Elliot coming into his own, mixing Air Raid and Pro concepts brilliantly into his own style of Power PS football, Clemson is going to be hard to stop. Elliot won't be on the sideline, but his Offensive skill players are experienced, led by QB Lawrence.
OSU Schemes
Ryan Day runs a PS Pro scheme and while it may not be the most innovative scheme out there, he runs it to perfection. He keeps it simple, executable and comes up with brilliant gameplans and play calling time and again. With OSU's massive talent now – even on par with Alabam – their Offense is very hard to contain.
On Defense, Greg Mattison is really the "old ball coach" DC who runs that side of the field. He has always been solid schematically his whole career and recently has made some aggressive improvements. He won't mix as much as Venables, but he does mix more than in previous years. Zone + Man Blitzes from anywhere at anytime. Last year his play calling was top notch and held down Clemson's offense for a large part of the game.
So who has the edge this time?
If I had to rate these two Teams I would give them both an A in Culture – top notch and have been for a decade, with OSU also having a great Football Lineage.
Fundamentals – I maybe give a slight edge to OSU as Day has built his Team on this idea. Non only for his PS Pro Offense, but also for his Defense, where he hired coaches based on their teaching of fundamentals of which Mattison has a great reputation.
Schemes – Slight edge to Clemson – mainly because of Venables, but Elliot is no slouch either.
Talent – Clemson has recently put together their best ever recruiting classes, but I still feel that Ohio State holds the overall edge. They have been recruiting at this level for a long time and Urban Meyer's last classes were his best ever.
Probably the biggest area of advantage in talent I see for the Buckeyes is in the all important trenches. Even without Chase Young, the Buckeyes have had great DT play all year – particularly from Haskell Garrett. Their slew of talented DEs have also provided pressure, if not sacks, throughout the year. Conversely, Clemson lost a lot of their great OLine talent from last year and has struggled at times this year. Their skill players are fantastic, but the OLine can be beaten.
So in the end – it is close. OSU's talent edge gives them that slight advantage overall. So why do I think there is a chance for a game that isn't as close as people expect?
Magic?
This is #1. Magic, good luck or whatever you want to call it. It's what propelled Clemson to such an improbable win a year ago.
So what do I mean by Magic? It is all about that Faith – that Belief – that Trust. Both Teams have it and have for a while. Thus the A I give each for Culture. But last year the Timing was on the side of Clemson. They have been riding this momentum for a while. Momentum is one way to gage Timing.
Another way is what I would call – THE DUE FACTOR. Sometimes it is just TIME. This goes for an individual or a team. Sometimes the Struggle is over. The waiting is done. The Time is NOW.
Clemson had this in recent years. Ohio State had this in 2014 and 2002. It may be their Time again.
Of course this kind of predicting is very sketchy. Much easier to go by what is seen on the field. Guessing when a Team is "due" takes into account factors that can only be seen by being at practices and with the Team. Even then this concept of "Due" is elusive. Even the coaches themselves can never be sure when their Team is ready for a breakthrough. But they can usually feel it. Sometimes so can the fans.
For me, Ohio State has been fighting hard for 3 years. Were left out of the Playoffs 3 years ago. Had a horrible Playoff loss last year. Struggled with Covid Issues all year. They have a ton of talent and character. The coaches and the culture. They had a sub-par B10 Championship game but pulled it out. Everyone is healthy. Their great QB has had a great week of practice and is ready to go. If ever a team was Due, I'd say OSU is that Team!
Can the Buckeyes overcome a lack of in game prep?
The one major issue I have with OSU it is their lack of preparation. The B10 was not a top notch conference this year. Covid issues had a lot to do with this, but in reality there is not a team in the B10 that is even close to OSU in talent or otherwise. Clemson, Alabama and to some extent Notre Dame this year, are unlike any opponent OSU has faced in their 6 previous games.
OSU may be shocked at the speed and quality of such a top notch team early on in the game. Pressure will be upon them immediately – both on Offense and Defense. If they fall behind and start trying to hard to keep up or get back in the game, it could turn into a disaster quick.
On the other hand, if OSU is due and with the revenge factor from last year, they could come back from a slow start and never look back. If they get a big lead this year, do not expect them to let Clemson back in the game. They have let teams back in the game all this year, letting down after racing out to big leads, but this is Clemson. They won't be letting down versus this team in a revenge game.
Prognostication – OSU starts slow, but recovers and eventually runs away from Clemson … or gets blown out themselves…
I like OSU's Talent and Experience for their schemes. Their execution has been amazing at times this year. They haven't had the prep Clemson has had and while this bothers me, I do think it can be overcome.
The beginning of this game is what I am curious to see. If OSU falls behind quick will they recover? And if they do, will they then take off and finally put together their best game of the year – fulfilling their massive potential.
Honestly, I felt – everything considered – Ohio State was the best team in College Football this year and would be destined like last year's LSU Team was destined to be the best of 2019. The pandemic of 2020 changed everything, but maybe…just maybe… OSU still is the best Team of this wild 2020 Year. We will see…
2020 – A Year of Change and Flexibility
In this time of Covid it is really hard to get a handle on any game right now. I feel I would have to literally be with these teams day in and day out to know what is happening. The disruptions and so forth. I never felt that was so needed in the past as it is in the covid times of today.
Also, when you are talking about Magic or Luck, you are attempting to predict unpredictable circumstances beyond are knowing that can occur during a game. Again, it is far easier to predict from scheme, talent or culture than from such an elusive element such as luck.
In the end, the Team that stays together wins together. It's not magic or luck. It's a vibration we call Love.
Stay with the Love
No matter the outcome of this year's CFootball Playoffs, this has been a year for the Ages – regardless of how it is judged now or later. Expect the unexpected and be prepared to adapt. Keep open and able. And Love. Love what you do. Love yourself. Love others.
The Game of Football is all about Love. Passion. Love for oneself and for others. Passion for something greater than self. This is something that is hard to understand by those who haven't played. But even fans get to feel this Love and Passion in rooting for their favorite Teams.
Maybe it is Ohio State's year again. Maybe Clemson and Alabama do their thing again. Maybe Alabama writes another chapter in their dynasty. Or just maybe the Luck of the Irish pops out from nowhere in this most improbable of times.
Whatever happens – go with the Love – leave the other stuff out of it. Don't become so attached to the wins and losses. Simply Enjoy and Live to fight another day.
~DP